Flowers
"You say I DO…I do the REST".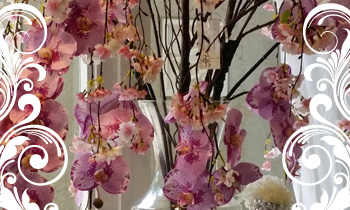 In 1998, 2002, and again in 2009, Mina Nemat received the highest recognition for her excellence and creativity in floral arranging. Her style, insight, training, and partnership in design is sought after by top stylists around the globe. She brings a depth of awareness, knowledge, and intuition combining quality and beauty together in an integration that is living magic on the physical plane. Whether she is working in silk or live flowers, it is hard to tell which is which, for the illusion that she creates is as inspired by art as it is by nature. All arrangements are custom order based on the individual client and their special event, and is never used again. Mina's guarantee that your event is a one-of-a-kind is her trademark.
Silk Flowers:
At Shine Time the artificial flower…becomes alive. Utilizing the best quality and craftsmanship available, with each piece uniquely designed to create the feeling of poetry, symmetry, elegance, and synergy, to bring your event to life. Offering the widest array of colors, textures, and varieties, coupled with glitter, gemstones, ribbon, crystal, greenery, or branches, there is no one who does it better than Mina and her Shine Time team. (Customized flowers, trees, and commercial presentations for restaurant, hotel, etc)
Fresh Flowers:
At Shine Time the fresh flower…brings life to your party and events. Our quality commitment and guarantee means that you will enjoy everything that the fresh flower has to offer from fragrance and elegance, to beauty and versatility, perfect for every venue and theme. Every bouquet, centerpiece, and arrangement is a one-time use design, ensuring that no one will ever duplicate or top your special event decor.
Accepting Orders and Providing for:
Bouquets, boutonnieres, nosegays, centerpieces, and other wedding arrangements
Bar/Bat-Mitzvah, Communion, Confirmation, Church, Chapel or Synagogue
Special Charitable Events, Community Programs, Award Dinners, and Galas
Restaurants, Hotels, Ballrooms, and public venues (Commercial tree and floral arrangements)
Birthdays, Anniversaries, Friendship, Get-Well, Inspirational, and more…
Stop in the shop for your complimentary consultation…and see for yourself.